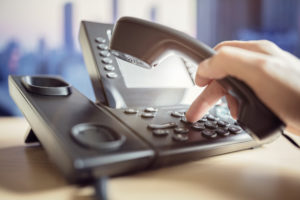 Starting a small business means wearing a lot of hats. Not only do you need to have a vision for your company, but you are also likely juggling different priorities in your budget. For a lot of small business owners, a phone system seems like a luxury, but using personal cell phones for business purposes can seem a bit unpolished to potential customers.
The cloud solution: One of the benefits of cloud technology is that it has acted as the great equalizer between big and small companies. Because it features a subscription-based pay model, even the smallest companies are able to purchase only the number of users they need, while still having access to the latest features that help them edge out the competition.
A cloud phone system is easy to access, in many cases only requiring that you download an app on your cell phone. It can assign a single phone number from your business that will then route calls to the appropriate person. You can set up other options such as the ability to have calls routed from your cell phone to an answering service if you don't catch the call within a certain time frame.
The use of this type of cloud phone system can help mask the fact that you're a small business, so that you don't scare away potential clients that might interpret the use of a personal cell phone as evidence that you cannot handle their project. It can also prevent a customer from getting frustrated when they can't figure out how to reach the right department in your company, or being confused when they are staring at a list of 12 contacts with 12 different numbers and don't know where to start.
One of the benefits of using a cloud phone service is the analytics that churn from this type of technology. You can find out whether or not your calls really did increase after you invested in a billboard, or if there are certain times of the week or year when you tend to receive a lot of contact.
The cloud answering service: This is another tool that serves small businesses well. Investing in a cloud answering service helps you offer superior service, without needing to hire a full-time staff to handle calls. Working from a customized script, an answering service can serve as a seamless part of your organization so your customers never know that it's not your own employees handling their call. Even better, agents have the ability to access online systems and work with your own customer relationship management solution or other applications.
An answering service can be helpful to small business owners that want to go on vacation or have certain times of the week where they engage their entire staff in a meeting and leave phones unattended.
To learn more about the wealth of technology that's readily available for small businesses at an affordable price, contact us at TeleConsult. We can help you identify cloud tools that provide the best possible benefits to your company without adversely affecting your budget.