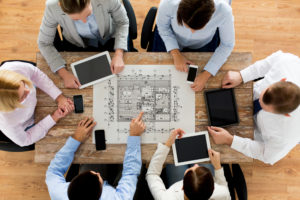 Staying connected in business seems like a pretty straightforward concept. But when technology enters the mix, a shoot-from-the-hip approach to business collaboration could leave your organization spending too much time and money on plans and applications. The reality is that business collaboration is critical to your success, has evolved considerably in the last few years, and is slated to only get better.
There are three trends gaining momentum in the marketplace overall that will enhance the way employees collaborate in the workplace and on the road. Let's take a look at these trends and how business collaboration will continue to deliver clear value for its users and the bottom line.
Integration is key. One thing we know for sure is that businesses today rely on a number of different applications in order to be successful. With many of these applications operating in the unified communications space, the opportunities for integrating across multiple channels have never been better. The apps rising to the top are those offering APIs, or application programming interfaces that ensure the smooth and secure transfer of data between two different platforms. App makers want to be sure proprietary strongholds don't get in the way of clean integration.
The inbox is getting a little less love. Email is great when you want to be sure employees can communicate and everyone is on the same page. It's also a great way to ensure you have a paper trail. When it comes to business collaboration, however, it is losing ground as users are turning to collaboration apps. Slack is gaining a lot of ground for those who simply want quick interactions, and project management platforms like Basecamp allow for communication streams, documents, and all other activities to be kept in the same place and in real-time.
You have to be mobile. For so many organizations, the key to optimal business collaboration is the integration of mobile. Not only are professionals on the go, but an increasing number of businesses are ditching the brick-and-mortar approach in favor of virtual operations. The slashing of traditional overhead is great for the bottom line, but doing so demands access to robust technology solutions that promote efficiency, productivity, and top performance.
In today's fast-paced environment, a strategic focus on how teams communicate and collaborate is essential to gaining a competitive advantage. If you're ready to see what more effective collaboration can mean for your environment, contact TeleConsult today.