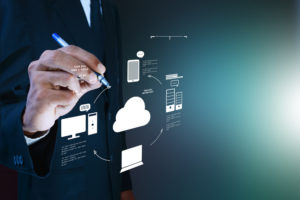 The cloud is no longer considered a fad. It is increasingly becoming the home of many businesses that are leaving their on-premise hardware behind. Not only does cloud save money, it also makes the workplace more productive. Many businesses are only partially in the cloud, taking advance of SaaS platforms that suit their needs. Here's what any business needs to know to make a smooth cloud transition.
Where the Cloud Is Going
The cloud market is expected to reach $4.46 billon globally by 2021 with the help of BYOD policies. Allowing employees to bring their own devices is one way companies are easing into a cloud environment. The fact that BYOD significantly cuts hardware and maintenance costs makes it an attractive form of quick change. SaaS platforms lead to further savings, since they involve paying for one license as opposed to several.
Decision makers also view VoIP as a practical alternative to a traditional land line. Using an internet connection for communication cuts costs enormously on long distance calls, which is important to global businesses. Cloud providers that offer SMS are gaining favor over traditional communications providers. More and more business professionals are using embedded communications rather than standalone solutions.
The shift toward cloud-based services has much to do with the fact that it's more expensive and less secure to run and maintain on-premise infrastructure. Hardware that must be replaced every five to ten years becomes a huge expense if every employee is assigned their own machine owned by the company. A cloud transition opens the door for less focus on technical aspects and more focus on the actual business. This shift in focus leads to improved business productivity.
Cloud Configurations
When a business decides on making a cloud transition, they have various configurations to choose from. Purpose-built software solutions provide embedded experiences. Cloud-based PBX technology limits disruption while providing basic, familiar capabilities for customers. The be your own carrier (BYOC) approach is based on the concept of Communication Platform as a Service (CPaaS), which allows developers to create customized applications. It frees developers from operating network infrastructure while having control over the customer experience.
Management must decide on a configuration then choose a service provider after carefully reviewing the options. While switching service providers can be complex, it can also make a big difference in profits and reputation. If the service regularly drops calls or makes communication difficult, it's necessary to switch to a more reliable solution. That's why it's important to thoroughly research a service provider before committing to an agreement. Here are essential criteria to explore:
quality of service must be carrier-grade
operations must be reliable for automation, call flow design, and support
the degree to which the carrier provides developers access and control
access to telecom data
new development features enhance voice, messaging, and video
Conclusion
Businesses are steadily making a cloud transition to save money and time on managing hardware and software. The growing popularity of VoIP is another example of how the cloud is providing cost efficient solutions to businesses. As long as the service is researched and shown to be reliable, in many cases cloud services are much more economical than traditional equipment or services.